Virtual Tour >

Beef & Boards Dinner Theatre has been serving up food, fun and fabulous live entertainment for everyone since 1973. Located in College Park, the theatre was part of a chain of dinner theatres built by Louisville contractor J. Scott Talbott. It was called "Beef" because of the delicious hand carved roast beef served before the performances, and "Boards" referring to the boards or stage of a theatre.
Today, the Indianapolis location is privately owned and the sole remaining Beef & Boards Dinner Theatre, entertaining more than 155,000 theatergoers annually.
Each season includes professional Broadway shows, plays and acclaimed children's theatre productions by our resident Pyramid Players.
But a visit to Beef & Boards is more than just great theatre! We offer a tasty dinner buffet prepared by our in-house chef, plus a full-service bar and mouthwatering gourmet desserts. Be sure to stop by the Intermission gift shop for unique gift ideas, and ask about seeing more shows for less through our VIP membership program.

Come see why each year more and more people discover the value and quality of Beef & Boards Dinner Theatre!
Beef & Boards is a professional theatre entertaining audiences year-round.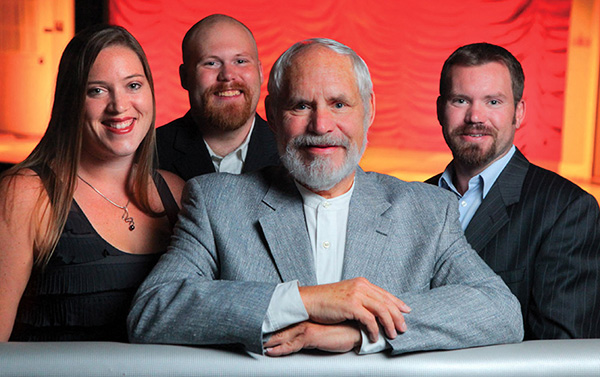 Pictured: Doug Stark, Elizabeth Stark Payne, Josh Stark, and Nick Stark