Joseph and the Amazing Technicolor Dreamcoat
October 5 - November 19, 2023

This Andrew Lloyd Webber musical follows the Biblical story of Jacob's preferred son Joseph. After being sold into slavary by his brothers, Joseph discovers his ability to interpret dreams, and soon finds himself in front of the mighty - but troubled - Pharaoh. Joseph's solution to Egypt's famine elevates him to Pharaoh's right-hand man and reunites him with his family. 

Rated G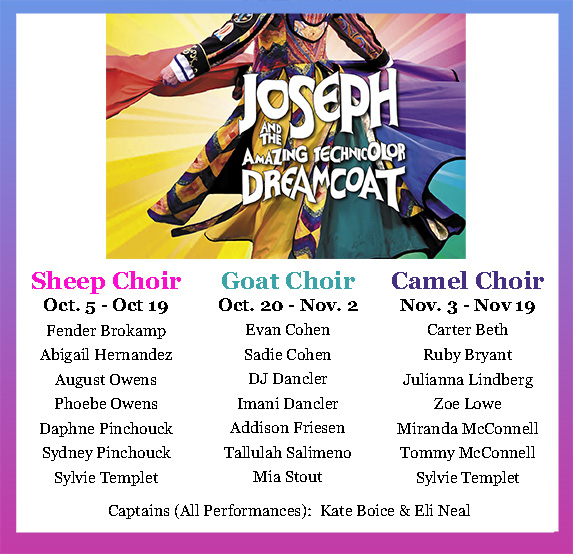 A discount of $6 off per ticket available to children ages 3-15. Children under age 3 not admitted to this show. Not all shows may be suitable for all ages.

The doors to the theatre open approximately two hours prior to the show time for the buffet. The buffet closes 30 minutes prior to show time. We suggest arriving at least 90 minutes before show time to enjoy your full dinner theatre experience.  ​​​​​
Tickets 
VIP Member LOGIN 
Please add only one performance date to each order. 
---
BOX OFFICE
317.872.9664
---
LOCATION
9301 Michigan  Road
Indianapolis, IN 46268
---